The Port Authority of Bilbao will again be actively present at Fruit Attraction – the International Trade Show for the Fruit and Vegetable Industry. At Stand 10H04D in Pavilion 10, and under the Basque Country Logistics Brand, Bilbao will be presented as an alternative to road transport for fruits and vegetables destined for the north of Europe as well as an entry gate for goods arriving from South American countries such as Colombia and Ecuador.
On the one hand, Bilbao is the Atlantic port which is best linked to the European Atlantic with twenty weekly departures. Services that stand out are those with the United Kingdom, Ireland, the Netherlands, Sweden, Finland, Poland and Russia.
These lines are complemented by an excellent rail service offer to the Iberian Peninsula. Here, special mention must be made of the refrigerated train, run by MacAndrews, which links Bilbao with Murcia twice weekly.
Then again, among other facilities, the Port of Bilbao has a Border Inspection Post, and a perishable goods terminal with a 25,000-cubic metre capacity, equivalent to 5000 tonnes of goods.
At the Port's stand, Mercabilbao, the largest perishable foods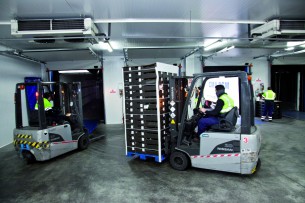 distribution centre in the north of the Peninsula, located 20 kilometres from the Port of Bilbao, will also be prominent. It has 87 posts for fruit and vegetable sales and 10 banana ripening chambers.
Collaboration with Mercabilbao forms part of the commercial policy of the Port Authority of Bilbao, which in recent years has committed itself strongly to increasing the fruit and vegetable entry flows. In 2014, this traffic increased by 2.5%.