From 2-4 April the Bilbao Exhibition Centre will host Wind Europe Conference & Exhibition, the most important European event in the wind energy sector, and an international reference. The Port of Bilbao will be prominently present in the Euskadi-Basque Country space organised by the Basque Energy Entity, and the Energy cluster of the Basque Country, which takes in 37 Basque companies that will exhibit their potential and technological developments.
The Basque wind energy provides 4000 jobs and generates 15.7 million euros turnover. This fair is a showcase for all its potential since over 8000 professionals and some 400 exhibitors from nearly 50 countries are expected to be present.
The Port of Bilbao has been adapting to the logistics, operational and manufacturing needs of this sector, both for offshore and onshore wind farms by preparing new infrastructures and responding quickly and flexibly to the wind energy industry. In this sense, a new pier is at present being constructed, whose first stage will be ready for next year.
Clients such as Siemens Gamesa, Haizea Wind, Lointek and Navacel have export platforms and industrial set ups in the Port of Bilbao, alongside stevedoring companies specialised in handling and loading like Bergé, Toro y Betolaza and Servicios Logísticos Portuarios (SLP).
With a view to finding out the new opportunities offered by the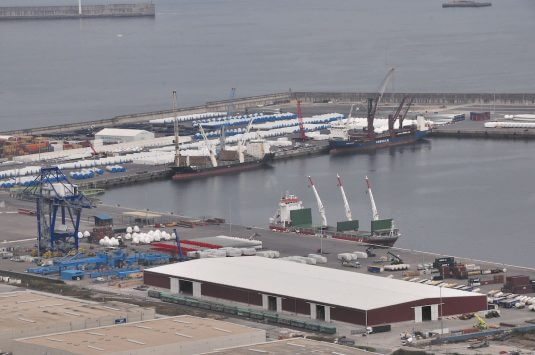 development of wind energy and to be in contact with other leading ports and operators, the Port Authority of Bilbao has joined the Wind Europe Ports Platform, which ports from Belgium, Holland, France and Denmark also belong to.
The Port Authority of Bilbao will show its advantages and opportunities for the wind energy sector at Stand B-20 in Hall 1.