The Port of Bilbao, together with the Basque Country Logistics Brand and offer, will again be present at the annual International Logistics & Material Handling Exhibition (SIL) to be held in Barcelona from 6-8 June. On Wednesday 7, an important delegation from the Basque Government's Department of Economic Development and Infrastructures – headed by Minister Arantza Tapia- and from the Port Authority of Bilbao – led by Chairman Asier Atutxa- will visit the Exhibition to lend their support to the important role as the driving force in the sector, which is key to the internationalisation of companies.
Information about the Basque Country and Port of Bilbao intermodal offer will be available at Stand A-156 along with the latest updates concerning infrastructures, dry ports and services.
As Bilbao is a multi-purpose port, terminals for all traffic modes will be emphasised, among which the deepest container terminal in the Iberian Peninsula, which is managed by Noatum Container Terminal, stands out. This company is making important investments to acquire new equipment as well as installing new automatic gates and accesses for truck traffic, which will be ready in July. For early next year, the existing rail tracks will have been extended from their present 450 to 550 metres.
Information will also be provided about the other terminals and the stevedoring companies operating both in the Port of Bilbao – Bergé Marítimas Bilbao, Consignaciones Toro y Betolaza and Servicios Logísticos Portuarios – and in the dry ports at Pancorbo (Burgos) and Arasur (Alava). Pancorbo, with an area of almost 50 hectares, already has a developed zone of some 60,000 square metres and a rail terminal which will come into service this year, while at Arasur a rail siding, which will also be ready later this year, is being constructed.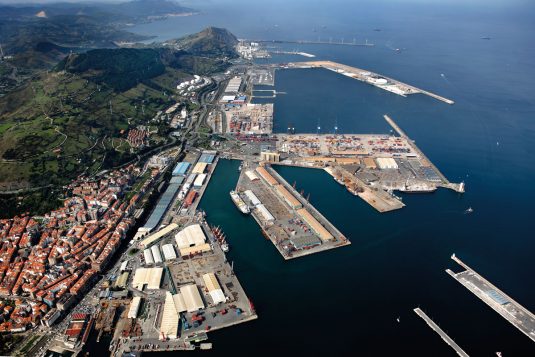 With regard to rail traffic, tonnage entering or departing from the Port of Bilbao grew by 20% last year, thanks to the large number of rail services to places like Catalonia, which allows an important competitive improvement.
In addition, the Port of Bilbao has one of the greatest energy and industrial poles with new projects linked to the offshore and onshore wind power sector in progress.
Furthermore, it is also driving the epuertobilbao telematics platform, which already offers 12 services. In 2016, the number of user companies and messages processed on the platform increased significantly, and now there are 661 companies and 1,249 clients registered. Recently, a mobile application was developed in order to facilitate the sending of pre-entry notifications, for greater operational flexibility.
With regard to traffic statistics, between January and April tonnage increased by 1.4%. General cargo grew by 10% and container by 1%.