Between 4 and 7 of June the Port of Bilbao will again be present at the Transport Logistic Munich Exhibition in order to present its wide services offer for all types of cargoes and destinations.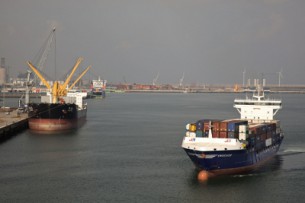 From the ICEX stand (HALL: B4, STAND: 310A) the Port representatives will provide information to the main shipping companies, logistics operators and shippers exhibiting and attending about the terminals for all types of goods, the large number of both deep and short sea maritime services and its wide maritime-rail modal offer. In addition, details will be provided about the Port's new land surfaces and the new business opportunities that can be generated with the development of the infrastructures being carried out by the Port Authority.
Since 1992, when the Extension Works were commenced, the Port of Bilbao has reclaimed 2.6 million square land metres from the sea, has built 3.25 kilometres in docks; there are also draughts of up to 25 and 32 metres in the commercial and the industrial zones respectively.