For yet another year, the Port Authority of Bilbao will be present at the Seatrade Cruise Med, to be held in Lisbon on 19 and 20 September. The Port of Bilbao has witnessed in few years how its number of cruise calls has taken off, with 32 vessels berthing between January and July, which supposes a 14% increase.   Similarly, passenger numbers have increased by 6% in these seven months. This season 60 cruise vessels are expected to arrive carrying almost 84,000 passengers.
In addition, the increase in embarking and disembarking operations due to the attraction of Bilbao as a home port must be underlined, and which the opening last year of the new maritime station has intensified. Due to its design, high quality standards and maritime safety, this station is at the forefront in Europe.
Over twenty shipping companies
This year over twenty shipping companies continue to back and trust in the Port of Bilbao: Azamara, Celebrity Cruises, Cruise & Maritime, Crystal NYK, Cunard Line, Du Ponant, Fred Olsen Cruise Line, Hapag Lloyd, Hurtigruten, Majestic Int, MSC, Noble Caledonia, Norwegian Cruise Line, Oceania, Princess Cruises, Pullmantur, P&O, Royal Caribbean (RCCL), Saga Cruises, SeaBourn Cruise Line, Sea Cloud, Silversea Cruises, TUI Cruises and WindStar Cruise.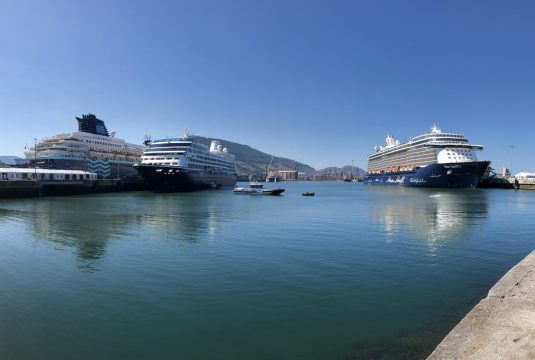 Cruise vessels of all sizes (from 90 to 339 metres long), of different types (family and exclusive) and for all ages will arrive. Besides, at least a dozen vessels will call at Bilbao for the first time. Again this season, the elegant cruise vessel, Britannia (P&O, belonging to the Carnival Group), will return, having already called in April and will repeat in September. It must also be noted that four vessels will berth overnight in the Port this season.
Finally, it must be noted that again, Pullmantur (RCCL) backs Bilbao as a starting and concluding route port, since over 2000 passengers will embark on or disembark from their cruise ship Zenith.