Next Sunday, 14 April, the cruise vessel Hamburg, belonging to the German company Phoenix Reisen and consigned by Bergé, will inaugurate the Port of Bilbao's cruise season. The 144-metre long ship, with a 144-passenger capacity will berth at 14.00 hours and will sail for the French city of Brest at midnight.
The arrival of the first cruise vessel comes a few days after the Seatrade Miami Conference – the most important on the international circuit – that was held in Miami from 8-11 April. The Port Authority again sent a strong representation, attended pre-arranged meetings with shipowners and other cruise-sector professionals, which has enabled an important number of calls to be closed for 2020.This year 50 calls are expected, while 60 are forecast for 2020.
The Port Authority stresses that "this is not a uniform-growth sector, but one which evolves in up-and-down fashion: thus, it is important to see how it develops over a period of a few years and our view is excellent". At Miami, shipowners congratulated the Port Authority for establishing this traffic in a port on the Bay of Biscay, and also for the investment and improvements in infrastructures and services, which are making the Port more and more attractive as a cruise destination. The Port Authority goes on to state that " in order to attract new cruise vessels, our intense commercial work and infrastructures are still decisive, and our new passenger terminal – OLATUA- is making a strong contribution in this sense".
Six German Companies
In 2019, some 50 cruise vessels with 70,000 passengers are expected. Outstanding among these is the arrival on 18 April of Hurtigruten's Midnatsol, which on 2 February 2006 inaugurated the first cruise-exclusive berth at Getxo. Hurtigruten is counting on the Port with a further two ships – the Fridtjof Nansen and the Roald Amundsen– which will make their first calls in Getxo.
Another call worthy of mention is RCCL's Celebrity Edge, which is 306 metres long and has a 3,918 passenger capacity.  This vessel made its maiden voyage to the Caribbean in December 2018, and will arrive in Getxo on 10 May.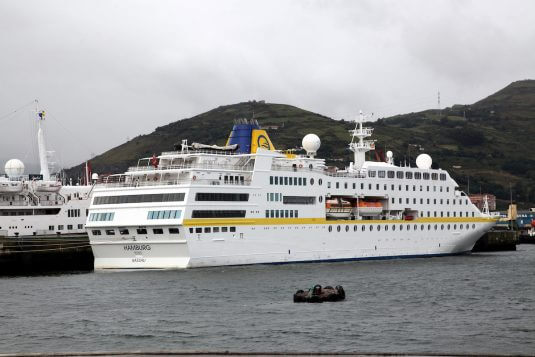 German companies will again back Bilbao. Thus Aida CR announces that its ship Aidasol, whose capacity is over 2000 passengers, will make its first call. In all, this company will make four calls this year.
Other German returning companies are Hapag Lloyd, Sea Cloud, Tui Cruises and Phoenix Cruises- the latter with three calls. In addition to these is the German group Fti Cruises, which will visit the Basque Country for the first time.
German tourism appreciates the Port of Bilbao and the destination. Among other characteristics, they value the opportunity to move about on bicycle (already on board many of their vessels), local cuisine, availability of German-speaking guides and the proximity of the terminal to the airport.
Other companies to highlight are the French Ponant, with its vessels Le Champlain (first call) and Le Boreal, and the luxury American company Seadream with two calls scheduled for its stylish Seadream 1.