International fair will be held at IFEMA Madrid 23-25 October
Previous to their participation, working sessions will be held with heads of some 30 South-and Central American companies
The aim is to demonstrate the advantages of their joint strategy to reship fruit and vegetables to Northern Europe and the rest of the Iberian Peninsula, and for the entry of produce from South Africa and South and Central America.
For the fourth year in succession, the Port Authority of Bilbao and Mercabilbao will jointly attend the Fruit Attraction Fair, the event bringing together the largest representation of the international fruit and vegetables production, to be held at IFEMA Madrid, 23-25 October.
On the eve of their joint participation, several working sessions will be held with some thirty managers from South and Central American companies, with the collaboration and support of the Basque Government Overseas Action Department.
The objective is to highlight Mercabilbao's and the Port's commitment to be the entry gate for produce coming from South and Central America, and their capacity to reship fruit and vegetables towards Europe and the rest of the Iberian Peninsula – an alternative to transporting horticultural produce by road- and also for the entry of produce from South Africa and South and Central America.
The Port of Bilbao presents itself as the best-connected Atlantic port with Europe and the Iberian Peninsula for perishables distribution. It will inform of its Ro-Ro terminals, and motorways of the sea, its Con-Ro terminal with 540 reefer plugs and 21-metre depths, its multi-purpose terminal, storage and distribution area, Progeco's and Frioport's perishables warehouses, as well as the Murcia reefer train connection managed by MacAndrews with two weekly departures.
Furthermore, the container terminal is the most important in the north of Spain, and also the deepest. It is managed by Noatum Container Terminal Bilbao, and has automatic access, which smoothens and simplifies all the operating process, even for fresh produce hauliers.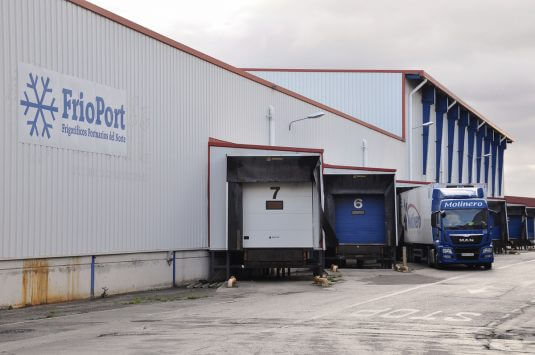 In 2017, fruit and vegetable traffic in the Port of Bilbao rose to 136,000 tonnes, with greens, onions, garlic and leeks, potatoes and citrus fruits prominent.
Mercabilbao
The collaboration between Mercabilbao and the Port of Bilbao forms part of the distribution centre's strategy to contribute added value to the chain by allowing non-traditional destinations to be reached while offering the possibilities to despatch mixed cargoes. Such operations prove to be profitable both at the resources level and from the perspectives of economy and time thanks to the strategic location of Biscay's capital city, Bilbao, the available infrastructures, existing logistics warehouses and the transport flows, with the competitive advantages this supposes for the horticulture sector.
Mercabilbao's strategic location – that is, very near to the intersection of the Paris-Hendaye-Madrid axis close to the Cantabrian Motorway and with a direct link to the motorway network – together with the Port of Bilbao, make it the ideal point to carry out an efficient and quality internationalisation strategy.
In 2017, over 249,800 tonnes were handled at the Mercabilbao facilities, 219,429 of which were fruit and vegetables.