Its representatives confirm 55 calls
One year more, representatives of the Port Authority of Bilbao, with the support of the Bilbao Turismo Office, have taken an active part in Cruise Shipping Miami, the main international cruise fair held from 10 to 14 March.
The event served as a world showcase for the Basque County as a cruise tourist destination with its offer of gastronomy, culture and attractive landscapes.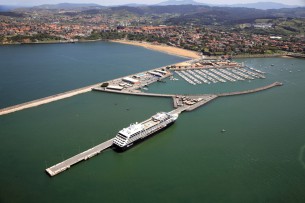 In parallel, the Basque representatives held meetings with cruise vessel owners and tour operators which have confirmed that this year over 55 calls will be hosted at the Getxo berth, with more than 70,000 passengers being received. If these figures are confirmed at the end of the season, then a record will set up for the Port of Bilbao, with a 25% increase.
The Port representatives state that "the cruise industry hopes to grow 5% worldwide, driven by the Asian countries, Australia and the Middle East. In this scenario, the Basque Country can grow in the short and medium term because it presents different attractions to the Mediterranean which is what cruise vessel owners are now seeking and calling for in order to satisfy an ever increasingly demanding public."
The cruise season begins in April this year and, at present, is scheduled to end in October. However, it has not been ruled out that calls for November and December may be confirmed in the coming months. "The season is never closed in this sector. There can always be changes and we can always work to achieve new calls. That's the situation right now," they conclude.
Based on present data, of the 55 scheduled cruise visits, eight will be visiting the Basque Country for the first time, and twelve vessels will be "almost three times longer than a football field."