The Port Authority of Bilbao's "Ezagutu Portua" programme (Basque for "Know your Port") began on 3 February with the first educational visit.
During their stay, the schoolchildren saw the Port facilities at Santurtzi and Zierbena as well as learning about different subjects such as history and geography (History of the River and Port of Bilbao), types of vessels (typology and parts of a boat), maritime transport (means of transport, maritime traffic, historical and present day professions) and energy and the environment (renewable energies, measuring instruments, environmental measures).
Booked until June
The Port Authority's invitation to schools, which is completely free, has been so well accepted that all school days have already been booked up until June. Thus, over the coming months, almost 2000 schoolchildren will visit the docks at the port.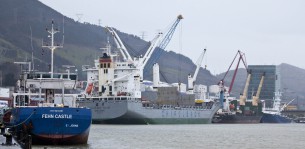 In May, the Port Authority, which will continue with this initiative next year, will contact schools again with a view to organising the second programme. Priority will be for those centres that have not visited the Port this year.
The visits are aimed at schoolchildren in the 8 to 14 age group. They take place from Monday to Friday every week during the school year at flexible times in order to try to fall in with the needs of the different schools.