This coming Sunday, 25 February, the cruise vessel Saga Sapphire, belonging to  Saga Cruises, and represented by Pérez y Cía, will inaugurate the cruise season in the Basque Country. The ship's overall length is 199 metres, and it arrives from Southampton with 566 mostly British passengers on board. It will berth shortly before 12.00 p.m. at the Port of Bilbao's Getxo Cruise Terminal.
It will be the vessel's first visit to the Basque Country, and it will remain in port overnight before sailing for Malaga at 12.00 p.m. on Monday.
In 2017, the Port of Bilbao received 61 cruise vessels with 83,674 passengers on board. This season, although estimates can vary, the Port Authority is expecting a similar number "which will be positive for the tourist sector for both Biscay and the Basque Country, as well as for the local economy, since it is complicated to maintain such similar positive figures for two consecutive years".
"The intensive commercial work and the new passenger terminal – OLATUA, inaugurated in March 2017- still remain decisive".
In this sense, in March, the Port Authority will again promote the Basque Country as a cruise destiny at Seatrade 2018 Miami/Fort Lauderdale – the most important on the international circuit.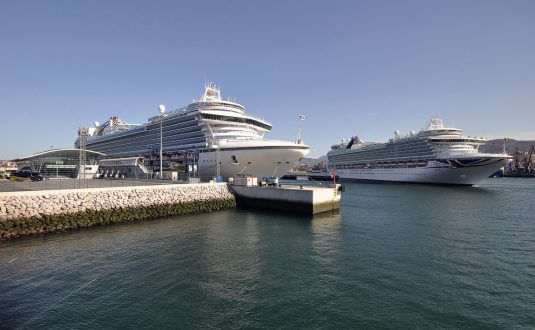 Cruise companies such as Azamara, Celebrity Cruises, Cunard Line, Crystal, Fred Olsen, Hapag Lloyd, Hurtigruten, Majestic International, Marella Cr., MSC, Noble Caledonia, Norwegian, Oceania, Ponant, Pullmantur, Princess Cruises, P&O, Royal Caribbean Cruises Ltd (RCCL), Saga Cruises, Seabourn, Sea Cloud, SilverSea Cruises, TUI Cruises and Wind Star continue to commit themselves to Bilbao as a cruise destination.
In addition, this season will see a dozen emblematic cruise vessels berthing for the first time, and again, two, and even three, vessels will coincide. Special mention must also be made of Pullmantur for offering the possibility to embark on cruises from the Port of Bilbao's Getxo facility.