With a view to consolidating and improving on the contacts made during previous visits, the Port Authority of Bilbao, together with the Euskadi (Basque Country) Delegation and the Mexican Business Council for Overseas Trade (COMCE) will hold a seminar –"Port of Bilbao, the Atlantic Bridge to Europe" – in Mexico D.F. on 1 October.
Mexico is the Port of Bilbao's fourth market, only behind the United Kingdom, USA and Russia. Last year two million tonnes of cargo, mainly liquid bulks were moved.
The Port Authority states that this trip is precisely "to capture other traffic and boost growth in container as well as general cargo. At the same time, we will commercialise present and future Port spaces, bearing in mind the successful experiences of companies like Gamesa, who last year, set up their logistics hub in the Port."
The Port Authority chairman, Asier Atutxa, and the Operations, Commercial and Logistics Director, Luis Gabiola, will take part in the meeting. Irakusne Incierte, Director of the Business Area of the Basque Delegation in Mexico, Manuel Llaca, Vice President of the COMCE's Mexico-Spain Business Committee, and Arturo Cors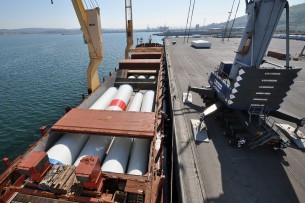 de la Fuente, Director of Business and Institutional Relations of the port and logistics Corporation of the Spanish Overseas Trade Department, will also participate.
In addition, companies working with the Port of Bilbao such as Acciona, Bergé Logística, Erhardt, Marmedsa/Noatum, MSC, Sparber and Vasco Catalana will also be present.
Finally,there will be Mexican participants from the eolian, automotive, food, machinery chemical products and maritime transport and logistics sectors.