16 scholarships for young Foundation riverside town residents. Placements will be in the Port Authority
The Port and River of Bilbao Foundation is promoting a programme of work experience placements to be developed in the different departments of the Port Authority of Bilbao, as part of the cooperation framework of the board of trustees. Sixteen places will be offered to young unemployed university graduates under the age of 32, and also to young students in the second cycle of Higher Vocational Training. They must all be registered in one of the nine riverside towns forming the Foundation's Board of Trustees (Bilbao, Erandio, Leioa, Getxo, Barakaldo, Sestao, Portugalete, Santurtzi and Zierbena).
The Programme will be carried out between October 2015 and June 2016 with a maximum of six months for university graduates and 800 hours for Vocational Training students. The selection process will be undertaken by the Novia Salcedo Foundation (dedicated to promoting young people) together with the Association of the Public Vocational Training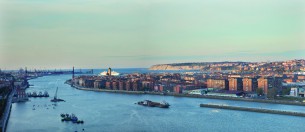 Centres of Biscay (Ikaslán) and the Vocational Training Centre of Somorrostro respectively.
The bases and specific offers for each functional area will be available on the webpages of the above-mentioned towns throughout September.
The Foundation
The aim of the Port and River of Bilbao Foundation is to promote and develop general interest plans and actions within a wide socio-cultural and recreational framework, that will bring greater knowledge of the historic and present relevance of the Port of Bilbao, and of the River of Bilbao itself in the economic and social history of Biscay and the integration of the riverside towns.
The Foundation's activities are geared towards encouraging and developing lines of research; organising seminars, sector meetings and training courses within the sectors involved in port and municipal life; granting scholarships and aid for training in the port field; carrying out study projects on port services; taking part in fairs, seminars and other forums; cooperating with and sponsoring social, cultural and sporting activities; encouraging cooperation among different administrations, entities and/or other agencies in the sector, and cooperating with other non-profit making organisations in the environment.