The Port Authority of Bilbao has purchased a new state of the art emergency vehicle, provided with equipment comparable to an advanced life support unit. The vehicle will be used for accident scene intervention inside the Port of Bilbao's facilities and not for taking casualties to hospitals, which corresponds to the Emergency Health Transport Network.
The new mobile medical care vehicle has cutting edge equipment to attend casualties including:
Defibrillator monitor
Spinal board
Immobilisation material (Ferno kit, splints, surgical collars)
Stretcher
Secretion aspirator
Lifebuoy
Safety harnesses
Life jackets
Helmets
Emergency bag
Oxygen bottles
With regard to communications, the vehicle is equipped with a radio and a mobile phone for connection with Port Authority of Bilbao's Emergency Control Centre.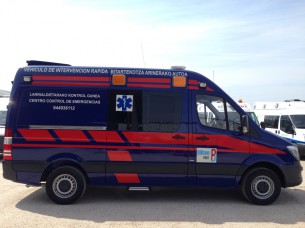 In addition, it has a petrol/gas engine in order to comply with the contamination law minimums; a modern electric system adapted to feed the medical apparatus and necessary lighting and appropriate signals for this type of vehicle. It also has safety elements including better accessibility, better lighting for on-scene safety, better distribution of medical apparatus and materials, improved ergonomics, greater visibility of the vehicle and an increase in comfort, thus providing more medical warmth.
According to the directors of the medical service, "the unit supposes a great qualitative advance in attending casualties, since as from now, among other things, we can isolate the victim and the medical attendant from possible hostile elements and adverse weather conditions. In short, we can offer the patient great protection by creating a safe, functional and ergonomic work atmosphere."