Transmodal 2022 will be held on 17 March, with the participation of leading experts in transport and intermodal logistics, to discuss the supply crisis currently affecting businesses.
The forthcoming edition of TRANSMODAL 2022 – the 14th Intermodal Logistics Forum of the Basque Country – will be held on Thursday, 17 March. The event, to be held in-person and jointly organised by the Chamber of Commerce, Industry and Services of Álava and the Port Authority of Bilbao, with the collaboration of the Basque Government and the Provincial Council of Álava, will focus on the current supply crisis and its effect on logistics.
TRANSMODAL is the reference event of the logistics sector in the Basque Country. Over the previous thirteen editions, 115 experts in the field have shared their experience and knowledge at this forum, and over 1,200 professionals from the sector have attended.
The Chamber of Commerce of Álava, convinced that logistics is a key factor for the competitiveness of all companies in the province, is strongly committed to the sector. Through the VIAL programme, and in collaboration with the Provincial Council of Álava, the Chamber of Commerce works closely with logistics companies in Álava to keep up to date with current trends, to further consolidate the strengths that make Álava a first class logistics hub and to identify and develop areas for improvement.
With TRANSMODAL, the Chamber of Commerce and the Port of Bilbao have created a forum of reference among regional and national companies related to the logistics sector. The event is also a meeting point for the Port of Bilbao and the freight companies in the area. Furthermore, the port's firm commitment to intermodal transport in Álava can be clearly seen in the actions taken in Jundiz and Arasur, where it operates railway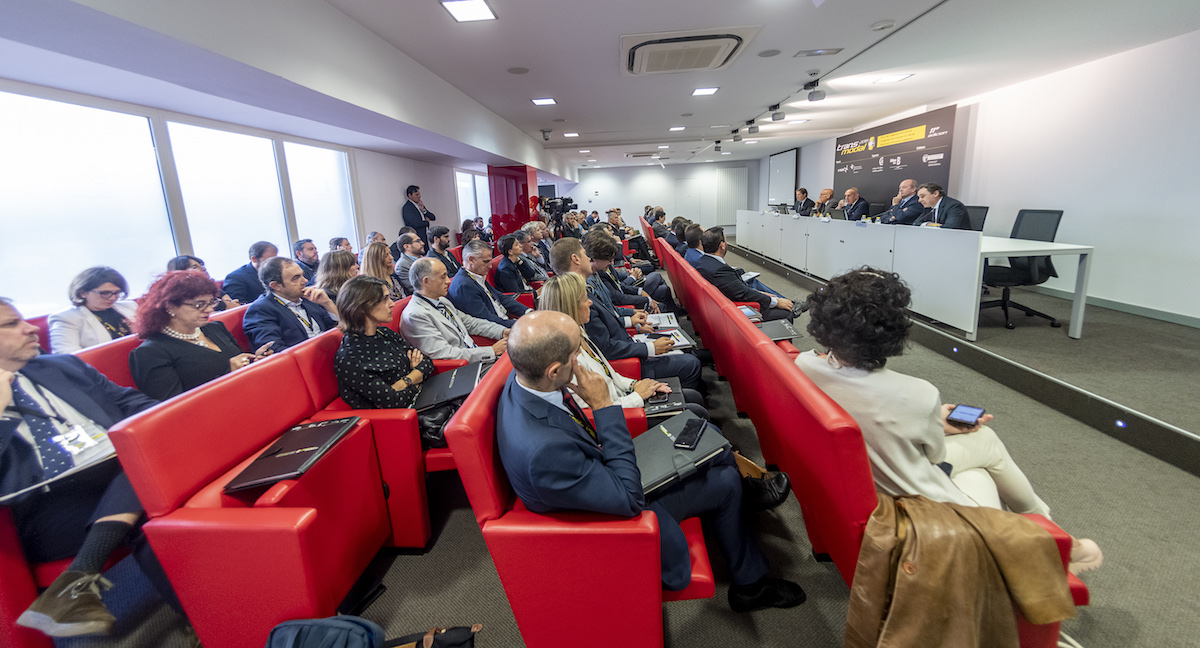 terminals that enable goods from the immediate area of influence to be grouped together and subsequently shipped on scheduled trains.
This new edition, which will once again be held in-person at the headquarters of the Chamber of Commerce after two years of being held online, will be opened by the President of the Chamber of Commerce, Industry and Services of Álava, Gregorio Rojo; the President of the Port Authority of Bilbao, Ricardo Barkala; and the President of the Provincial Council of Álava, Ramiro González.
Speakers will also include Andima Ormaetxe, Director of Operations, Commerce, Logistics and Strategy of the Port Authority of Bilbao: Jesús Cuéllar, Head of Air and Ocean Sales Iberia of DB Schenker and President of the MAD Cargo Forum; Iñigo Ansola, General Manager of EVE (Ente Vasco de Energía); José Antonio Cabello, Country General Manager of Omron Electronics Iberia; Mikel Urrutia, General Manager of Vasco Shipping, agent of Cosco Shipping Lines; Axel Dewaleney, Country Manager of Transfennica Logistics; Elizabeth Rodríguez, Iberia Managing Director of UPS, Gorka Salas, Business Development Area at Duvenbeck; and Iñigo Area de Arana, Director of AON Vitoria, sponsor of this event.