In September, the Noatum Container Terminal Bilbao new truck gate automation system came into operation, together with its complementary telematics services implemented by the Port Authority of Bilbao in order to optimise operational productivity.
The new facility comprises 7 entry and 3 exit gates. The system requires that before arrival at the Port, both shipping and transport companies should provide the terminal with all the necessary information via the e-puertobilbao platform (www.epuertobilbao.com), in order to be able to receive or deliver a container.
Hauliers travel without stopping through the Optical Character Recognition portals and once at the automatic gate, tap the access code given by e-puertobilbao into a touchscreen. The system returns a chit, indicating where the operation is to be carried out inside the terminal.
The advantages of the system are a reduction in waiting time at Port and terminal entry gates, an increase in safety and security inside the Port precinct, and providing the Port Authority and the terminals with a system enabling the management of road transport flows and optimisation of port operations.
In 2016, the Port of Bilbao moved 6.4 million tonnes of container cargo through its facilities which amounted to 596,688 TEUS.
Investment in the terminal and platform
Between 2016-2018, the Noatum Container Terminal Bilbao, the Port's container terminal operators will invest 10 million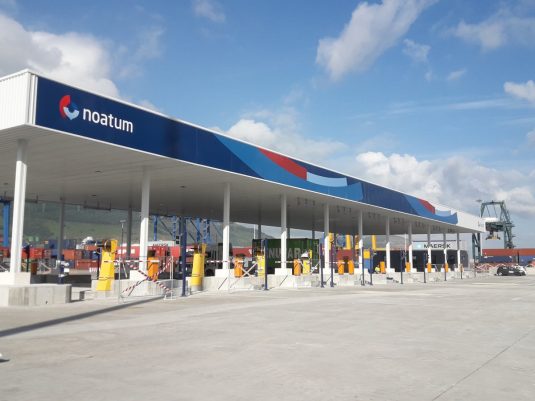 euros in the new accesses, together with the extra 100-metreextension of the rail terminal, including the related equipment: both form part of their great projects. The new facility will enable works on the terminal extension to be commenced and thus bring 550-metre long trains into operation.
On the other hand, the e-puertobilbao telematics platform has been updated to be able to generate the access code that is sent to the terminal and haulier. The generation of this code supposes that information pertaining to both delivery, and where applicable, admittance, in addition to the corresponding pre-notification, have all the necessary data elements required by the Port Authority and Noatum for automatic gate management.
Besides, e-puertobilbao has a new mobile application aimed at transport companies, that due either to their operations or transport characteristics, such as transport times, need to carry out pre-notifications from wherever they are.