In the Port of Bilbao, the company Navacel has started loading the five towers which will form part of the wind turbine structures of HyWind Scotland Pilot Park, the first floating wind farm which will be located in Scottish waters.
Loading is being carried out from the Navacel quay on the River of Bilbao, and in the first part of the operation, which will last for five days, different sections will be shipped to the Stord Base site in Norway for assembly. Once the towers have been assembled, they will be transferred to the floating wind farm 25 kilometres from the Peterhead-Aberdeenshire coast, where the turbines will be assembled. The remaining shipments are scheduled for mid- and late March.
The turbine towers manufactured by Navacel have a height of 83 metres with a diameter of 7.5 metres at the base and 4.2 metres at the top, where the turbines will be installed. Each tower weighs 620 tons, which explains why it is so complicated to ship them.
HyWind Scotland Pilot Park is a pioneering project: it is the first floating    farm for obtaining marine wind power farm, where the structures supporting the turbines are moored to the seabed, rather than placed directly above it. The advantages of such farms lie in the fact that they have less environmental impact on sea beds, lower assembly and installation costs, since they are assembled in part on land, and also the possibility of positioning wind farms at greater marine depths,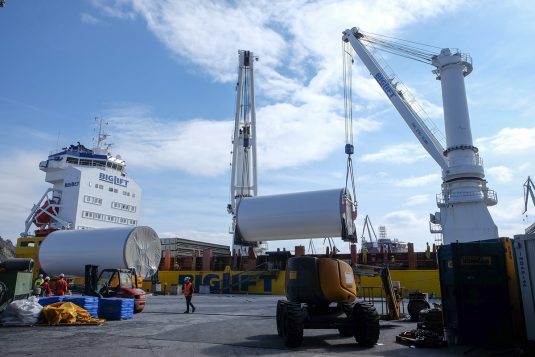 where according to experts, better quality air currents are produced and the energy from these can be better exploited. Located in deep waters between 90 and 120 metres, HyWind Scotland Pilot Park will be operative at the end of this year and supplying power to 20,000 homes.
The project, commissioned by Norwegian company Statoil, was commenced in April last year and Navacel's scope of works included purchasing of structural materials, the entire manufacturing process of the towers, and the surface treatment process as well as the installation of the electromechanical systems and tower internals including platforms, stairs, lift, lighting, electrical panels and wirings. The company has also procured and installed the external platforms, where two cranes will be installed to allow the lifting of operating vessels.