The Kai Jai-Day of the Port will offer numerous free activities dedicated especially to children and their families
The organisation will put on a free shuttle bus service between Neguri Metro station and Biscay Suspension Bridge with the Olatua Cruise Terminal
On Sunday 28 October the Port of Bilbao Terminal at Getxo will become a free amusement theme park where visitors can get first-hand knowledge of the Port's day-to-day activities in a relaxed way.
This is the fourth year the Bilbao Port and River Foundation have organised Kai-Jai (Day of the Port in Basque) which aims to be a great celebration day for the Port of Bilbao employees and companies and invites the public at large to its "home".
Among the many activities – aimed mainly at children up to 12 years old and their families – several mock rescue actions using a helicopter and police dogs are featured. Likewise, there will also be games of all kinds (ball pool, inflatables and an extreme inflatable for plunging, seesaws and make-up among others): three theatre performances to learn about the Port of Bilbao in an enjoyable way; a human launcher; a gymkhana; a photocall where they will be invited to take a photo of themselves and keep it as a souvenir, and a miniature port where they will witness what a port is like and what the different tasks carried out there are: this will be interactive so that participants will become dockers, moorers, tug operators and pilots. They will also learn to tie sailing knots and to recognise the different types of boats. In addition, they will enjoy a mini-boat trip in an inflatable pool.  In parallel, it will be possible to watch port service boats going about their normal tasks, as well as learning more about Biscay Suspension Bridge, which celebrates its 125th anniversary this year.
Participants will receive a passport when they enter, which will be stamped as they take part in the different activities.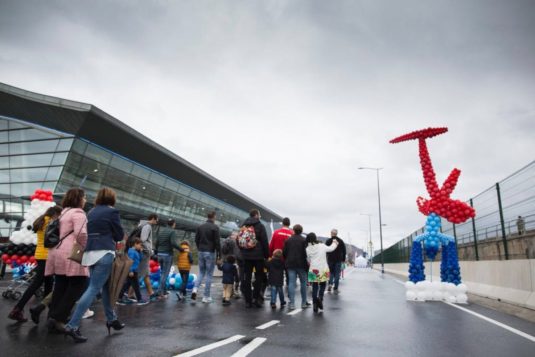 The activities will take place between 10.30 and 14.30, and a stall will be set up where participants will be able to savour talos – typical Basque corn crepes. The organisers will put on a half-hourly free shuttle bus service connecting the Metro station at Neguri and the Biscay Suspension Bridge with the Olatu cruise terminal Getxo, where free parking is also available.
If bad weather prevents the activities from being held outside, they will be transferred to inside the maritime cruise station, where capacity is limited.
The Bilbao Port and River Foundation
The aim of the Bilbao Port and River Foundation is to promote and develop a wide range of socio-cultural and recreational plans and actions of general interest that will provide greater knowledge of how the past and present relevance of the Port of Bilbao and the River itself have contributed to the economic and social development and the integration of the riverside towns. The Foundation is constituted by the Port Authority of Bilbao and the nine riverside towns of Barakaldo, Bilbao, Erandio, Getxo, Leioa, Portugalete, Santurtzi, Sestao and Zierbena; some twenty port activity-related companies and entities also figure among its collaborators.