On Sunday 26 April, Bilbao will receive the cruise vessel Le Boreal, the first to visit Euskadi this year.
Le Boreal, belonging to the French company Du Ponant, was launched in Marseille in 2010. It is 142 metres long and holds up to 264 passengers and 139 crew. It has six decks and is notable for its innovative design which makes it look like a great yacht.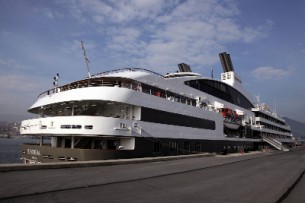 This modern cruiser will arrive from Santander and dock at 17.30 hours, and then sail at 19.00 for Belle Ile in France. The vessel will remain little time in Euskadi, but not its passengers, since the majority will come from Santander by road to take advantage of the day and to go on trips. The visit most in demand is Bilbao and the Guggenheim Museum.
46 Cruise vessels.
The Port of Bilbao cruise terminal at Getxo is scheduled to receive 46 vessels this year, which the Port of Bilbao Authority management considers positive, since despite the present economic situation, the figure is close to the 50 calls that were recorded in 2012.
The second cruiser of the year, Pullmantur's Empress, will arrive on Saturday 4 May, when passengers will embark directly at the Port of Bilbao.