Before a large number of shipping companies representing all of the Port of Bilbao container traffic, the Port Authority of Bilbao presented the new Unloading List service on its e-puertobilbao telematics platform. Production is scheduled for January after a one-month trial period.
This service aims to coordinate and simplify the sending of lists between shipping agents and container terminals, thus switching from using many formats to a standard one only. In this way, data presented in the unload summary declaration will be coherent with that of the unloading list and what has really been unloaded. In addition, by combining with Customs goods dating, it will be possible to check which goods have and which have not been dispatched by Customs when the declaration is presented. This will bring about a quicker exit for containers from the Port area.
This service completes the containers import cycle which begins with the Summary Declaration, Unload List, Deliver, and exit pre-notification. In this interval goods are dispatched and both shipping agent and terminal (Union Customs Code -UCC) can have online information about this action.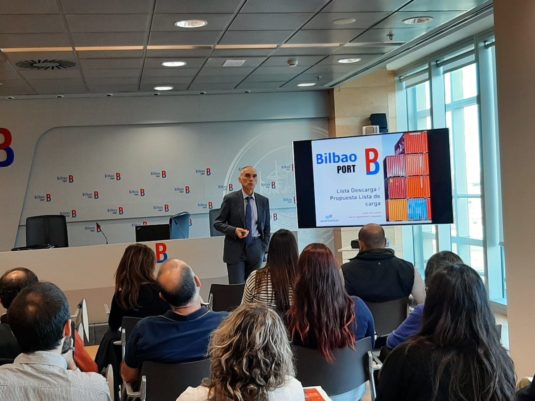 The new version of the loading list was also presented with the incorporation of a series of improvements making the container lists with all the document data available for both the tax receipt and the terminal. Thus, with just one transmission, the agent complies with the customs requirements of the tax receipt as well as with the terminal's goods planning operations. Likewise, it also assures that what is to be loaded complies is duly dated for Customs, and therefore, complies with UCC requirements.