Plant construction and specialised machinery installation requires 55 million-euro global investment.
Its activity will generate between 250 and 300 new jobs, and it will come into operation in first quarter of 2018.
Manufacturing capacity will be 180 towers yearly, each comprising three sections, and due to their size, they must be manufactured close to port docks.
This strategic project supposes an advance in the creation of a thriving Basque wind energy industry in expansion, and the Port of Bilbao consolidates its position as a port specialised in heavy load projects.
The building of the marine wind tower manufacturing plant for offshore facilities that Haizea Wind will start up in the Port of Bilbao has commenced this month of July.  The construction of the pavilion together with the installation of specialised machinery and start-up costs will require total investment of some 55 million euros.
The Port Authority of Bilbao awarded the building of the pavilion by public tender to the temporary consortium of companies formed by  Construcciones Intxausti, Byco (Inbisa Construcción) and Gaimaz Infraestructuras y Servicios at a cost of 17.6 million euros with a seven and a half month completion period.
The building complex will occupy 48,800 square metres and will be located on a 77,000 square metre- plot on Dock AZ-2 in the Port of Bilbao Extension at Zierbena. It will consist of a main pavilion to which service and administration buildings will be annexed. The pavilions will be 20 metres high.
This construction and its use form part of the Port Authority investment plan to activate the start-up of logistics-industrial projects, like wind power, that bring traffic and create employment, resources and wealth for the territory. In this respect, Bilbao is a specialised port both in special projects and heavy loads as well as in an emerging sector as is energy. The majority of the wind power parts manufactured in the Basque Country embark using the Port's facilities, and some of the manufacturers are even located on the dockside.
Haizea Wind joined the other wind power companies already located inside the Port in February 2017, when the Board of Directors granted them a licence for the land where the pavilion is being built, which will also be licensed to them when it is completed.
Between 250 and 300 jobs
Haizea Wind will invest 37.4 million euros on industrial equipment and on starting up the manufacturing plant and the export of marine wind towers and other components, which will enable the creation of 250-300 direct employment posts at maximum activity times. Activity is expected to commence in the first quarter of 2018.
The plant will have an output capacity of 180 towers offshore/per year. An offshore tower consists of three sections. Production is measured in terms of tower sections, and consequently, production capacity will reach 540 sections/year. This will bring almost 107,000 tonnes of traffic to the Port each year.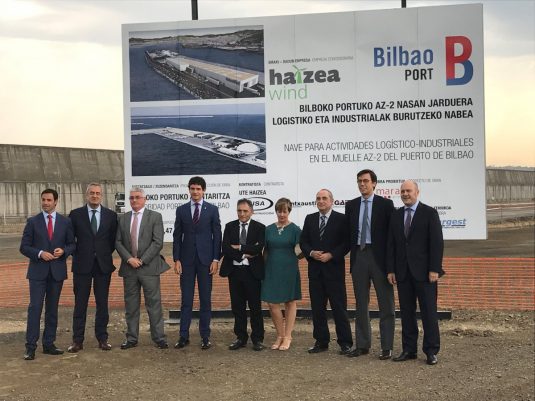 Wind towers constitute one of the main elements of a wind power generator which is made up of three blades, a nacelle and a tower.
In addition, the plant will be capable of manufacturing other XL parts used in marine wind farms such as monopoles and transition pieces. The raw materials needed start from carbon steel plate, delivered straight from local steelworks, bridles also made of steel, and electrical and mechanical inside elements.
Among other raw materials, the plant is expected to use 65,000 tonnes of thick metal plate and 7,500 tonnes of bridles.
Offshore wind towers can have diameters up to 8.5 metres, a weight/section of some 400 tonnes and a length/section of 50 metres. Up to three sections of different lengths can be joined, which can add up to more than 90 metres once they are assembled on board ships. All this means that it is an intrinsic requirement for them to be manufactured at the dockside.
This is precisely why the company has opted to carry out its investment in the Port of Bilbao because the main challenge for this industry is eliminated: – it is impossible to transport this type of product by any land means because of its size. Similarly, the Port's location enables the company, should the market so demand, to be also very competitive in land wind tower manufacturing, since the plant is prepared to be able to manufacture both these product types, which offers a lot of flexibility to adapt to different demand situations.
A thriving Basque wind energy industry
In 2016, 4,480 special transport items embarked from the Port of Bilbao, 12% more than in 2015.
In recent years, the attraction of the Port of Bilbao because its deep draughts, the availability of land and the large number of maritime services with ports all over the world has enabled the setting up of important heavy cargo manufacturers needing facilities in a strategic location and with a loading point straight to the vessel. These companies have joined others that have been located on our docks for some time, and so, firms like Gamesa Eólica, Lointek and now Haizea Wind, have added to the ranks of other veterans like Navacel and Vicinay Cadenas.
Thus, advances are being made in the creation of a thriving Basque wind energy industry in expansion, and the Port of Bilbao is consolidating its position as a specialised port in heavy load projects.