During the "Smart Lighting for Smart Ports" Congress, held in the Port of Bilbao, the Port Authority of Bilbao and Signify (Euronext: LIGHT), the worldwide leader in lighting, presented the advantages offered by connected lighting in large infrastructures. Cost savings, better safety conditions for employees and customers as well as greater sustainability are some of the points dealt with at the congress.
The new Port of Bilbao lighting provides economic and environmental benefits, while at the same time, improving lighting quality. The 1,300 lighting points have been substituted by ClearFlood projectors and Luma lighting using LED technology, all integrated in the Interact City platform.
The Port of Bilbao, the most important logistics node on the Bay of Biscay, with over 36 million tonnes of cargo and 3000 vessel operations a year, is obtaining an energy saving of over 50% compared with the previous installation. At the same time, the Interact City platform offers the Port Authority of Bilbao a series of benefits:
Total control over the Port's 1,300 lighting points from only one central station, thus enabling monitoring and the generation of reports and details of incidences, which simplifies maintenance tasks and management of the infrastructure.
A saving of more than half of the energy consumed in lighting, thus achieving the sustainability objectives that have been fixed,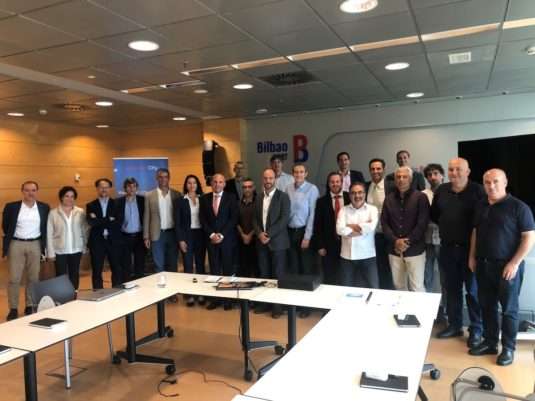 Easy to adapt the lighting in real time or to programme for routine tasks. At the same time, the greater quality of light enables the creation of a safer work environment for operators and visitors.
A solution prepared for the future thanks to its scalability and the use of a system open to integration with other systems.
The "Smart Lighting for Smart Ports" Congress, which was attended by representatives of the Port of Bilbao, concluded with a technical visit and a demonstration of the possibilities of the new lighting system that has been installed.