Representatives of the port community of Bilbao have attended WindEnergy Hamburg, held from 27 to 30 September and organised by WindEurope. The delegation from the Port of Bilbao, represented among other organisations by the Port Authority and Uniport, held numerous meetings, visited customers and took part in the Basque Country stand organised by the Basque Energy Cluster, where the Basque Maritime Forum was also present.
WindEnergy Hamburg has showcased the dynamic nature of the wind energy industry in all its areas and across the entire value chain, bringing together manufacturers, operators and service providers from onshore and offshore as well as the leading players in the international wind energy industry.
In the Basque Country there is a strong and highly export-oriented industrial fabric focused on the development of all types of wind power components. The Port of Bilbao not only has land for facilities of this type (manufacturing or assembly/storage), but also boasts a port community with extensive experience in transport, loading/unloading, lashing and consultancy, and maritime services that connect it to 800 ports around the world.
During 2021, 150,000 tonnes of wind power components were handled through the port, including motors, generators and wind turbine towers. The Port is currently home to two companies dedicated exclusively to this type of traffic: Haizea Wind, a manufacturer of wind components, and Siemens Gamesa Renewable Energy Eólica, which has its export hub in Bilbao. Both companies operate in the expansion area of the port. Likewise, Navacel has facilities along the river which also enable it to manufacture these components and subsequently export them, and NORDEX ACCIONA uses the port for storage and important export and import operations. At the same time, the port community includes other operators, such as stevedoring companies, which dedicate a certain amount of space to this type of traffic.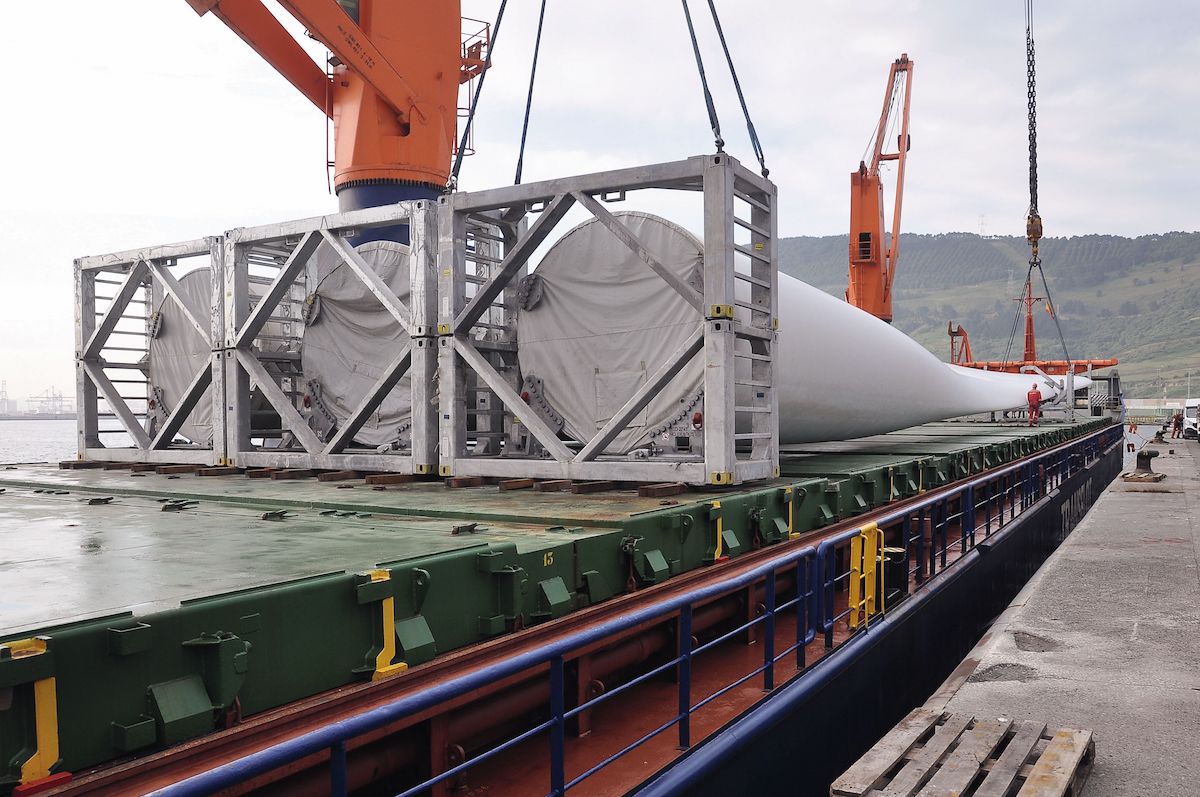 Manifesto for the development of offshore wind
In April of this year, the Port Authority of Bilbao signed the "Manifesto for the development of offshore wind", promoted by the Spanish Wind Energy Association (AEE).
The aim of the manifesto is to promote the development of offshore wind energy in Spain and to convey the need to streamline the applicable regulatory framework to ensure the floating offshore wind energy industry in Spain maintains its position as a world leader. The manifesto has been signed by 200+ organisations, representing the main players in the development of offshore wind: manufacturers, developers, companies in the value chain, trade unions, shipyards, ports and the naval sector, professional associations, universities, technology and R&D&I centres, associations, clusters and professionals.