Chairman of Spanish State Ports inaugurated the conference together with Bilbao Port Authority Chairman and later visited the Port of Bilbao, including the CSP container terminal.
Representatives of the human resources departments of the Spanish Port Authorities are meeting in Bilbao on 20 and 21 June at their XIV technical conference, where they are analysing, among other matters, the new collective agreement and the new framework for labour relations.
Ricardo Barkala, the Port Authority of Bilbao Chairman, and Salvador de la Encina, Chairman of Spanish State Ports, officiated at the inauguration.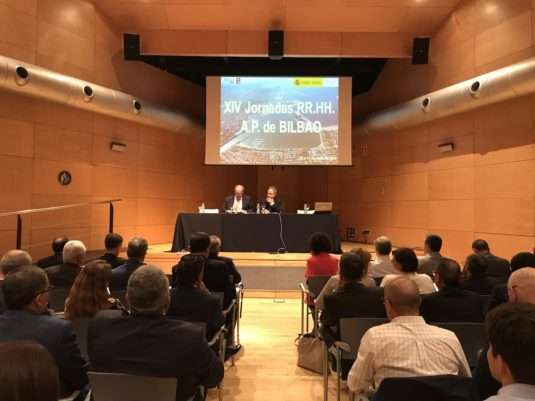 Ricardo Barkala underlined in his speech that "human resources go beyond what we can find within a labour relations framework. They are the driving force behind the integrated care and development, the commitment and motivation of the professionals that make up each Port Authority; and when I say driving force I mean that human resources policy should start from the strategy of each organisation, and as such, be developed from their very management and key figures". He went on to say that" to talk of human resources is not only to talk about salaries. It is to talk of the organisation's culture, of the values we want to be defined by, and which we want to offer as a company, and it is to talk of management excellence through the commitment of each one of its professionals to provide the best service our customers need".
At the same time, the Port Authority Chairman wanted to point out that the challenge of updating the management model by competences, which stems from the recently approved labour agreement, must be tackled, and he has requested greater collaboration and coordination "in order to be more effective".
For his part, the Chairman of Spanish State Ports emphasised the importance that the III Collective Agreement of State Ports and Port Authorities grants to professional promotion and training, the recovery of social commitments from the previous Agreement (reconciling family and professional life, gender-based violence, partial early retirement with substitution, gender equality plan, and psycho-social risks among others), the advances in the future Port Police project, and the inclusion in its salary scope a substantial improvement throughout its validity (8 years). "Now it is down to you that our ports, through their employees, who are the true architects of what has been achieved, should continue to give example to the rest of society". De la Encina did not doubt when describing the consensus reached with social representation as "a historic landmark".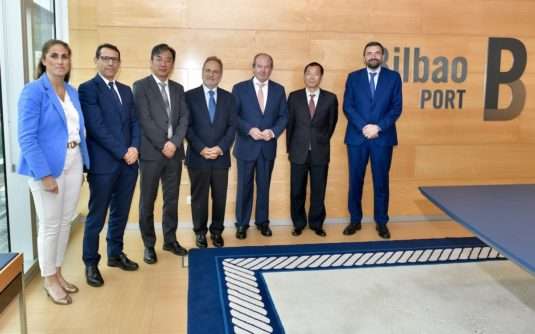 After the inauguration, the Chairman of Spanish State Ports was accompanied byRicardo Barkala on a visit to the Port of Bilbao facilities. At the CSP Iberian Bilbao Container Terminal, he was welcomed by Sun Kai CEO CSP Spain; Elias García, COO CSP, Spain, and Elvira Gallego, the General Manager of the Terminal.