The terminal, in which the Port Authority of Bilbao has invested EUR 15.7 million, will be managed by Sibport
The Arasur logistics platform will have a weekly rail connection with the Port of Bilbao as of Thursday, 18 March. The first train will depart in the morning from the Port container terminal to the Arasur railway terminal known as Aratrain. Once there, the goods that have arrived originally by ship will be unloaded for distribution by road to their final destination.
This service, set to run every Thursday and with a journey time of around three hours, will improve the competitiveness of Arasur, open up new business opportunities both for this strategic logistics area and for the port of Bilbao itself, and streamline connections between these two important logistic hubs and transport infrastructures in the Basque Country. In addition to providing a more sustainable intermodal service, this connection improves competitiveness by enabling up to 60 TEUs to be transported in a single journey, combining 20, 40 and 45-foot containers.
With these new facilities, both Álava and the rest of the Basque Country itself, with its exceptional geographical location, its conditions for intermodal transport and a highly competitive logistics platform, continue to move forward in line with developments in the European Union.
Aratrain is managed by Servicios Intermodales Bilbaoport (Sibport), which also manages the Jundiz and Pancorbo rail terminals. The frequency of the service is likely to be increased as demand grows.
The terminal, covering an area of 63,440m², has two tracks for train entry and departure and another two for loading and unloading. Each track is 450m long and is equipped to switch from Iberian to international gauge (UIC). In addition, a loading and unloading bay has been set up to enable intermodal cargo transfer.
An investment of EUR 15.7 million
The works on the construction of the railway siding, taken forward with a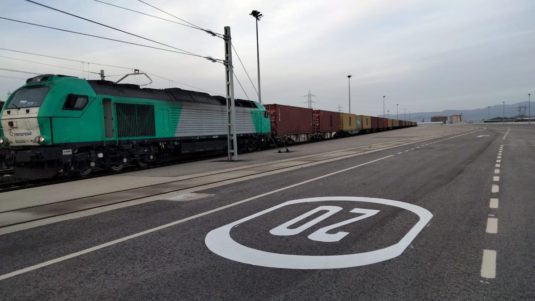 budget of EUR 5.28M, are the result of a collaboration agreement between the Basque Government, the Provincial Council of Álava and the Port Authority to set up a railway operating base for the port of Bilbao in Arasur.
The Port Authority also constructed a shunting track, with a budget of EUR 0.91 million, through an agreement with Talgo to use its railway bypass to the ADIF main line for access to the platform. Later, development works on the railway siding, representing an investment of EUR 4.8 million, were also completed, involving site development of the storage area adjacent to the goods siding, covering an area of approximately 40,000m², and of the 120m long access road to the platform.
Additionally, the project included the construction of a 300m² 2-floor office building, 150m² per floor, and a 500m² warehouse for goods storage, 20m wide and 25m long, which may be expanded in the future.
In total, investment in the Arasur facilities (land purchase, rail connections, land development, buildings, etc.) currently amounts to EUR 15.7 million.