It offers twelve services and is used by over 750 companies for information interchange.
This December marks the fifteenth anniversary of the coming into operation of the first service on the e-puertobilbao telematics platform (the Integrated Calls Procedure service for vessel entry/departure management – PIDE), fronted by the Port Authority of Bilbao. This platform has enabled greater speed and efficiency in vessel and goods passage management, which allows companies and the Port to be more and more competitive.
Throughout this time, the number of services, connected companies, certified users and interchanged messages has increased. Thus, from its beginnings, when there was only one service and 30 companies were connected, the platform now offers twelve services and enables over 750 companies to carry out information exchanges.
In parallel, throughout these years, a community of customers, who had operated using paper for their information interchanges base, has grown up around e-puertobilbao and moved on to working with electronic data interchange using standardized formats or electronic messages. All of this entails the well-known advantages of process simplification, speed, and information accessibility and availability, thus bringing about a more transparent working environment.
The platform, always active and in continuous improvement, now faces a process of technological renovation in terms of both hardware and software. To achieve such renovation, the Port Authority of Bilbao is going to commence a customer-consultancy stage in order to assess the common experience of these fifteen years, together with new emerging business needs and the new process support technologies. All of this is geared towards the future, with the awareness that digitalisation is a long-distance race, which is having, and will have a great impact in marking the competitiveness of the Port of Bilbao services.
The project has followed the directives set out by the Group for Procedures Harmonisation (GAP Bilbao) formed by the port community companies. In this way, the services link directly with the Port Authority's business development strategy, while responding to Port of Bilbao companies needs.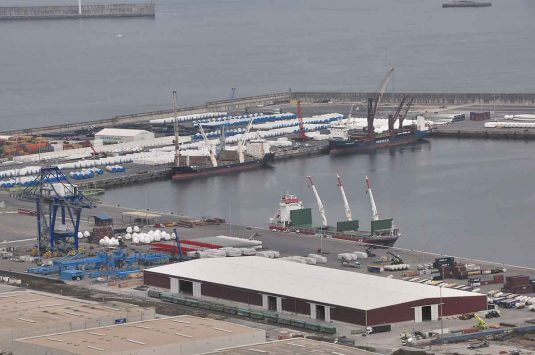 The services at present available for the logistics-port community of the Port of Bilbao are:
Integrated Calls Management for vessel entry/departure (PIDE).
Dangerous goods handling.
Summary declarations management.
Cargo manifests.
Coordination of container positioning at Border Inspection Post (BIP), Integrated Customs Inspection Centre and Scanner.
Pre-entry notifications for road transport entering Port control gate, and terminal gates management, including mobile device versions (Apps for Android and OIs).
Paper-free cargo list or clearance.
Delivery and admittance.
Entry summary declarations management (ENS).
Exit summary declarations management (EXS).
Weight Verification Requirement management.
Space reservation and transport instructions service.