The Port Authority of Bilbao has completed the extension works of the port's AZ-1 Dock, which will now officially be known as AZ-0 Dock. The works have generated approximately 50,000 m² of new surface area and a new berthing line of 251 linear metres in the Zierbena dock.
The new infrastructure, on which construction work began in September 2021 and which has required an investment of EUR 27.4 million, will be used primarily for commercial traffic, specifically bulk solids, and will help reduce congestion in the surrounding docks and to reorganise the different types of traffic for greater efficiency. In this respect, and in view of the fact that several companies have already expressed their interest in setting up operations in the expansion area, the Port Authority will launch a tender this summer for development and paving works.
Innovative and sustainable construction
To complete this new surface area, five 50-metre long, 17-metre wide and 24-metre high (equivalent to a 7-storey building) reinforced concrete caissons have had to be set up on a specific structure commonly known as a floating caisson or dock. These caissons have a series of holes on the inside to enable them to float and to be transported by tugboat to their final location and anchored to a rock mattress foundation previously prepared on the seabed. The caissons were temporarily filled with water and later with sand before being permanently anchored. The backfill area was subsequently filled with 750,000 m³ of sand extracted from the seabed using a suction dredger, whilst the outer wall of the dock is protected from erosion by a breakwater and a pile of concrete blocks.
Particular mention should also be made of the fact that 4,000 blocks of 10-tonne high-density steel concrete have been used in the execution of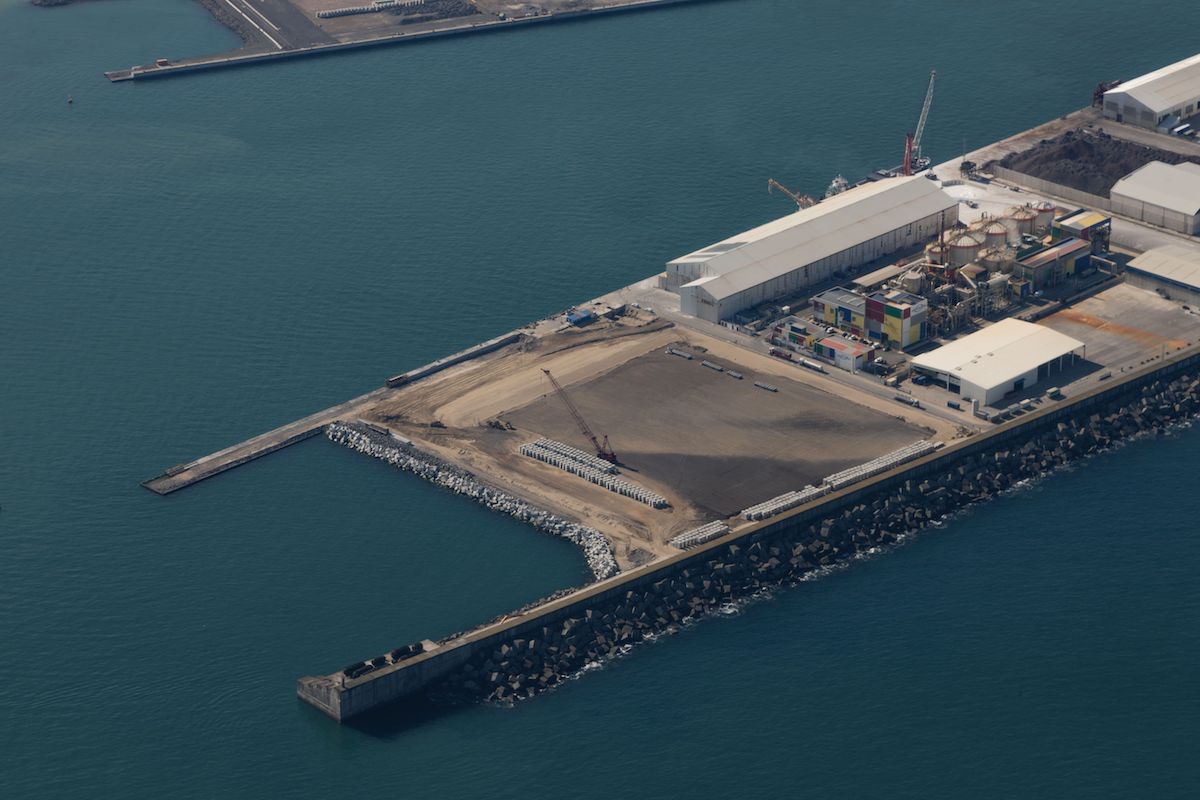 this project. As a result, waste from electric furnace steelworks, known as black slag, has been recovered and reused as coarse aggregates in the concrete, instead of dumping the slag in landfills and having to mine the equivalent amount of material (around 20,000 tonnes) in quarries, thus favouring the circular economy. These measures are in line with the strategic objectives of the European Union and the Waste Prevention and Management Plan of the Autonomous Community of the Basque Country/2020. Furthermore, reducing the size of the protection blocks from the 15 tonnes initially planned to 10 tonnes by using this high-density steel concrete has led to a decrease in concrete consumption of around 3,000 m³, with the consequent saving in the consumption of natural resources and raw materials and a reduction in the carbon footprint of approximately 17% compared to what was initially envisaged.